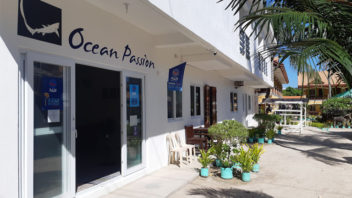 Ocean Passion Malapascua Dive Center is one of the premier PADI 5-star Dive Resorts in Malapascua, Philippines. We are offering the highest quality …
Read more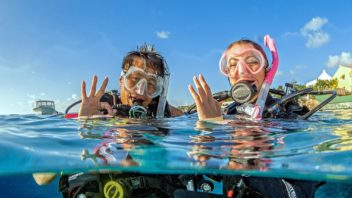 Diver certification begins here. Start with PADI's online eLearning course. Move to the pool and practice your new skills.
Read more
From Cebu City
Cebu City is where tourists usually touch down before going to Malapascua. From Cebu City, catch a bus in Cebu North Terminal going to the old and new Maya Ports for a four-hour ride. Buses depart almost every hour, fare ranges from P160 to P210 for the trip.
Both old and new Maya Ports have public boats going to Malapascua. The boat ride is approximately 30 minutes and fare is P100. Departure is every 30 minutes from 6AM to 4PM. Beyond this hour, you may charter a boat for P2,500 good for 15 passengers.
If you reach Malapascua at low tide, you may need to transfer to a small paddle boat called tunda to reach the shore, fare is P20 per person.
We can arrange a Transport with private Van for you ! The price for 1 or 2 Persons is PHP 6.200.- per way - car & boat and for 3-6 Persons is PHP 6.700.- per way - van & boat.
Dive4Help is the result of the fusion of lifestyle, passions and attitude of a collective of recreational diving professionals, through which we want to offer an alternative to current recreational diving. From Dive4Help we offer a Solidarity, Sustainable and Responsible diving and as recreational diving professionals. Together with Ocean Passion we want to give the opportunity to all those who share our passions, to participate actively or passively in sustainable development projects while they discover the wonderful underwater life. Travel Enjoy Dive Help
The resort is super nice & clean. Pool is a great highlight but also the warm hospitality of staff tops it all. They opened new scuba diving school- Ocean Passion with topnotch management & professional crew members. Amazing.
I spent my open water and advanced level with Tiago in only 4 days! I had'nt a lot of time but Tiago accepted. I saw tresher shark during one of my dive for advanced level. We went to Gato Island too and my boyfriend came with us for sharing 3 beautiful dives. All my dives were very good! Very friendly atmosphere! I liked that. Thank you very much
Merci beaucoup à Cédric pour nous avoir fait partager sa passion de la plongée en nous formant à l'Open water et l'advanced. On eu la chance de pouvoir utiliser du matériel tout neuf dans un lieu idyllique à Malapascua une petite île située au nord de Cebu aux Philippines merci encore à toi Cédric pour ta bonne humeur et ton professionnalisme bisous de Julien et Laeticia
Came as customers, left as friend. It was a blast to be in Slam's Garden Dive Resort & Ocean Passion Divers for one week. Perfect weather, perfect visibility. I need to come again to improve my diving skills.