WELCOME TO PRO TRAINING DIVEMASTERS § INSTRUCTORS IN THE PHILIPPINES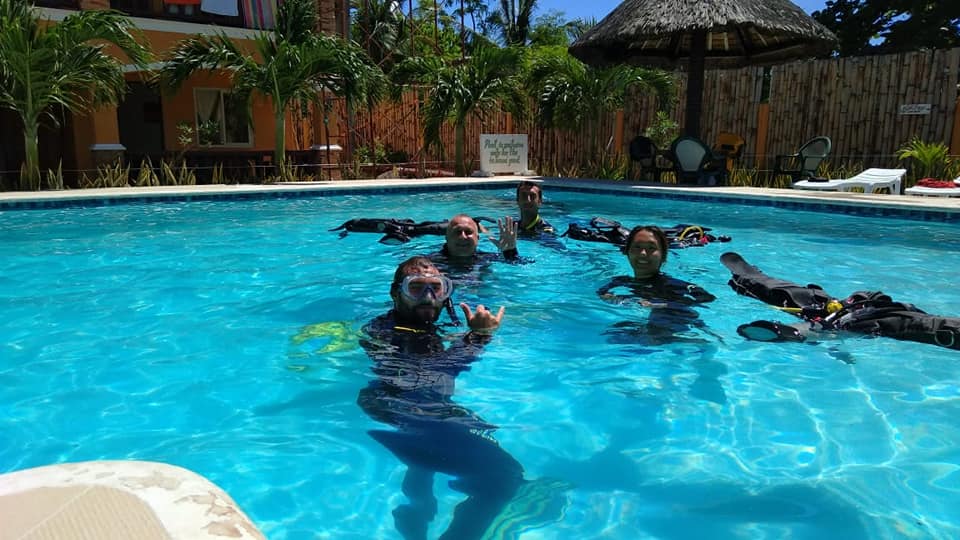 Divemaster
PHP 45000 (With own equipment)
Why become a divemaster in the Philippines
The life of a Padi divemaster is rewarding, fun and exciting. It also gives you the chance to travel the world and dive in exotic locations.
Here at Pro training Divemasters § Instructors in the Philippines we want you to experience it all. We offer the Padi Divemaster Course in the Philippines through Slam's Garden Dive Resort and Ocean Passion Padi 5* IDC Resort guaranteeing the best training under the guidance of our inhouse instructor trainer who has 20 years experience as a Course Director. At Pro training Divemasters § Instructors in the Philippines we can help you find the path that is perfect for you. Because we are located in the heart of the Visayas right next to Gato Island with its famous tunnel, Capitancillo Island with its beautiful coral gardens, Kalanggaman Island with its extraordinary white sand beaches and deep wall dive sites and Monad Shoal with the world famous Thresher Sharks we can ensure that you will not only love the diving, but learn to dive in all of the different conditions.
Here we will teach you to be a leader who mentors and motivates others, gain dive knowledge, supervision abilities, and become a role model to divers around the world.
Description
Love scuba diving? Want to share it with others on a whole new level? Take the PADI Divemaster course and do what you love to do as a career. Scuba divers look up to divemasters because they are leaders who mentor and motivate others. As a divemaster, you not only get to dive a lot, but also experience the joy of seeing others have as much fun diving as you do.
The PADI Divemaster course is your first level of professional training. Working closely with a PADI Instructor, you'll fine-tune your dive skills, like perfecting the effortless hover, and refine your rescue skills so you anticipate and easily solve common problems. You'll gain dive knowledge, management and supervision abilities so you become a role model to divers everywhere.
As a PADI Divemaster, you'll lead others as you supervise scuba diving activities and assist with diver training. Whether you want to work at a faraway dive destination or close to home at a local dive shop, the adventure of a lifetime awaits you. PADI Divemasters are respected dive professionals who are aligned with the largest and most respected dive organization in the world – PADI.
PADI Rescue Divers who are at least 18 years old may enroll in the PADI Divemaster course. You also need to have:
Emergency First Response Primary and Secondary Care (CPR and First Aid) training within the past 24 months.
A Medical statement signed by a physician within the last 12 months.
At least 40 logged dives to begin the course and 60 dives to earn certification.
Note that qualifying certifications from other diver training organization may apply – ask your PADI Instructor.
Academic
The PADI Divemaster course teaches you to be a leader and take charge of dive activities. Through knowledge development sessions, waterskills exercises and workshops, and hands-on practical assessment, you develop the skills to organize and direct a variety of scuba diving activities. Topics and practical workshops include:
The role and characteristics of the PADI Divemaster
Supervising dive activities and assisting with student divers
Diver safety and risk management
Divemaster conducted programs and specialized skills
Business of diving and your career
Awareness of the dive environment
Dive setup and management
Mapping an open water site
Conducting dive briefings
Organizing a search and recovery project and a deep dive
Conducting a scuba review and skin diver course
Assisting with Discover Scuba Diving and leading Discover Local Diving programs
Your instructor may also offer various speciality courses along with your divemaster training to help you meet all requirements and to broaden your abilities.
Equipment
As a dive professional, you'll want to have all your basic scuba equipment, including a dive computer, a dive knife, and at least two surface signaling devices. During practical skills exercises, like underwater mapping and search and recovery, you'll use a compass, floats, marker buoys, lift bags and slates. Your PADI Instructor may suggest additional gear that will be useful throughout your diving career.
Check with your local dive center to get advice about everything you'll need as a dive pro.
Getting Started
Sign up for Divemaster Online – PADI's eLearning option – to start now. You can work through eight knowledge development sections using a web-based system that lets you learn at your own pace. You also have access to an online version of the Divemaster Manual for reference during and after the course.
Another option is to study by reading the Divemaster Manual and watching the Divemaster Video (a book and DVD package). Contact us to enroll in the course and get your Divemaster Crew-Pak, which also includes other reference materials – like the PADI Instructor Manual and The Encyclopedia of Recreational Diving – that you'll need during the course.
Consider taking Dive Theory Online, another PADI eLearning® program, that takes you step-by-step through dive physics, physiology, skills, equipment and environment, plus a Recreational Dive Planner (RDP) review. By successfully completing Dive Theory Online, you can get credit for half of the Divemaster Final Exam. Your PADI Instructor can explain how this works when you meet to schedule knowledge review sessions along with your waterskills exercises, workshops and practical assessments.
Instructor Development Course
Pro Training Divemasters § Instructors in the Philippines is our unique facility made up of Slam's Garden Dive Resort and our 5* IDC Center, Ocean Passion, who are both owned by Santiago and his wife Liezel. Here at Ocean Passion you will find top of the line equipment, spacious classroom settings with air conditioning, and our very own private swimming pool allowing each candidate to hone their skills both in the classroom and in the water.
Santiago, our in-house Course Director, with over 29 years experience as a PADI Professional and 20 years as a Course Director has designed a very unique IDC Program for his candidates. Included in his program are all of the crucial tools one will need to become a prudent and standout profesional scuba diving instructor at an affordable price.
There are many components to professional dive education, especially with regards to the IDC, as such we don't offer multiple IDC packages as we feel that each of our candidates deserve the best IDC program available.
For this reason we offer only one program which we feel incorporates all the necessary key components to give you the best possible PADI Instructor Development Course in the Philippines. Our IDC & EFRI program including materials costs Php 92,500 and includes all of the following:
FREE IDC Preparation course – 2 days
IDC – 11 days
EFRI – 2 days
IDC & EFR Instructor Course Crewpacks INCLUDED (with E-learning)
FREE Project AWARE Specialty Instructor Rating (no additional PADI fees required)
FREE Project AWARE Coral Reef Conservation Specialty Instructor Rating (no additional PADI fees required)
FREE Peak Performance Buoyancy Specialty Instructor Rating (no additional PADI fees required)
FREE 10 fun dive package (terms & conditions apply)
Two weeks Instructor Internship Program
Dive Theory Study Program with custom designed study materials, practice exams and the 2019 updated skill demonstration video
FREE Lunch, coffee, tea, water, during Preparation days, EFRI & IDC
FREE Ocean Passion T-shirt
All sanctuary fees during your IDC and IE
Discounts at the bar § restaurants.
If you already hold the EFRI rating please let us know and we will adjust the program price to reflect this.
MASTER SCUBA DIVER TRAINER
SPECIAL PRICE FOR IDC CANDIDATES PHP15900
The PADI Master Scuba Diver Trainer rating sets you apart as a dive instructor who takes continuing education seriously and is committed to teaching a variety of courses. Having the rating of a PADI MSDT makes you more valuable as an employee which makes it easier to find work. Once you've landed your dream job the MSDT rating gives you more variety in your teaching, allows you to certify more students and offers better income opportunities.
If you sign up for our incredible MSDT preparation program you will soon find that you can achieve the higher instructor rating of Master Scuba Diver Trainer and really get a head start.
Included in our MSDT program are 5 Specialty Instructor Courses. We offer a special package of 5 interesting Specialties that can be completed after your IE in only a few days; the perfect way to spend those days while you wait for your paperwork to be processed at PADI head office.
Best USEFUL Specialities:
ENRICHED AIR INSTRUCTOR
DEEP INSTRUCTOR
WRECK INSTRUCTOR
UNDERWATER NATURALIST INSTRUCTOR
NIGHT DIVER INSTRUCTOR
To qualify as a Padi Master Scuba Diver Trainer (MSDT) you must:
Be a PADI Open Water Scuba Instructor
Have certified at least 25 PADI Divers
Have five PADI Specialty Instructor ratings
Applying through a Course Director you only need 10 experience dives in each particular Specialty
To apply directly to PADI, provide proof of 20 dives in each particular Specialty and have certified a minimum of 25 divers before applying
IDC STAFF INSTRUCTOR
PHP 19900
Becoming a PADI IDC Staff Instructor in the Philippines gives you an insight into the actual instructor development process and prepares you to shape the next generation of PADI professionals.
After a pre-assessment of your instructor-level knowledge of dive theory, the PADI system, exemplary dive skills and role-model presentation techniques, you'll participate in these sessions:
Instructor Development Standards, Procedures and Curriculum
How to Organize and Conduct the PADI Assistant Instructor Course
The Psychology of Evaluation and Counseling
Evaluating knowledge development, confined water and open water teaching presentations
Plus, you'll get to audit our entire IDC
As a PADI IDC Staff Instructor, you can independently teach PADI Assistant Instructor Courses as well as assist with IDC's and other instructor-level continuing education courses.